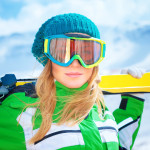 Over 25,000 people need treatment for sports-related eye injuries every year. The team at Bochner Eye Institute doesn't want you to spend a moment sitting on the sidelines due to an eye injury. And with the right information, you don't have to! We hope that by providing some helpful information, you and your entire family can avoid sports-related eye injuries and stay in the game.
Know the Risk
Being aware of your risk can mean the difference between getting hurt and avoiding an injury. Generally, high risk sports and activities include:
Baseball/softball
Hockey
Racquetball
Lacrosse
Paintball
The following sports are moderately risky:
Football
Soccer
Tennis
Golf
Low-risk sports include the following:
Swimming/diving
Bicycling
Track
Skiing
Wear the Proper Eye Protection
Everyday glasses, contact lenses and sunglasses cannot provide the protection you need from a sports-related injury. Our team of doctors encourages you to wear the protection gear recommended for your particular sport. Depending on your sport, this could be sports goggles with special polycarbonate lenses, a helmet with a faceguard, swim goggles or a full face mask.
When purchasing safety gear, ensure that it is labeled as ASTM F803 approved this means that it meets strict standards set forth by the American Society for Testing and Materials for protective gear.
Be diligent about wearing your gear every time you hit the court or field. Before the practice or game begins, check to make sure the equipment is in good condition and free of any cracks or other damage.
If you normally wear glasses or contacts, chances are your protective eyewear can be made to match your prescription so you don't have to wear glasses and safety goggles together. Ask your eye doctor for more details.
Be Prepared for an Eye Emergency
Eye injuries can happen despite our best efforts. Don't underestimate what appears to be a minor eye injury. It's better to be safe than sorry, so seek emergency medical care if you're unsure.
In the case of a blow to the eye, apply a cold compress without pressure to the eye area and go to the emergency room if there is pain, blurry vision or a black eye.
If the eye or eyelid is cut or punctured, do not wash the eye with water or try to remove any objects that are stuck. Cover the eye with a rigid shield (found in many first aid kits) and seek emergency medical attention.
To learn more about purchasing the proper eye protection, feel free to contact the team at Bochner Eye Institute. Call or email us today.