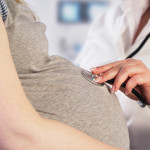 If you are an expectant or nursing mother exploring your laser vision correction options, you may have read that LASIK is not a good option for you. You may also be wondering why a LASIK surgeon told you to postpone treatment for a few months.
Here, the team at Bochner Eye Institute explains why most LASIK surgeons won't perform surgery on you, and why you might not achieve the vision correction results you want when pregnant or breastfeeding.
Hormones Can Lead to Changes in Vision Prescription
The hormonal surges that occur during pregnancy and breastfeeding can change a woman's vision prescription. Experts believe that these hormonal changes can cause the lens to swell, changing the degree of the woman's refractive error (i.e., nearsightedness, farsightedness, astigmatism). Those hormone changes start in the early months of pregnancy and last until a couple months after weaning the nursing baby.
LASIK surgeons require patients to have a stable prescription for six months or a year prior to surgery, to ensure they perform vision correction to the exact specifications of the patient. Operating while the vision prescription is in flux could compromise the accuracy of the outcomes, requiring additional surgery to correct the problem.
Medications May Not Be Safe for Expecting or Nursing Mothers
LASIK doctors use several medications before and after surgery that may pose a risk to babies. Prior to surgery, LASIK patients usually take a mild sedative, which is not safe for babies. LASIK surgeons also administer special eye drops before and after the procedure; these drops enter the bloodstream and may affect a developing fetus. And, LASIK patients may take over-the-counter pain medications after surgery, which are not safe for pregnant women.
Pregnancy Increases the Risk of Dry Eyes
Dry eyes is a common condition during pregnancy. Some pregnant women are even unable to wear contact lenses due to the discomfort of dry eyes. Unfortunately, dry eyes can also cause complications during or after LASIK surgery.
Schedule a LASIK Consultation with Bochner Eye Institute
The team at Bochner Eye Institute would be happy to evaluate you for LASIK surgery and determine whether you are a suitable candidate for treatment. Please schedule a LASIK consultation with our team by calling or emailing us today.