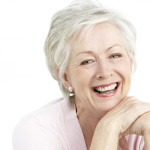 In April 2016, the United States Food and Drug Administration approved corneal cross-linking for the condition known as keratoconus. Corneal cross-linking has been available in Canada, Europe and other parts of the world for some time now. The Toronto eye doctors at Bochner Eye Institute have been on the leading edge of keratoconus treatment technology including corneal cross-linking for many years, and we are some of the most experienced in North America. Read on to learn why other countries such as the U.S. are starting to embrace corneal-crosslinking.
What Is Keratoconus?
Keratoconus is a condition characterized by an irregularly shaped cornea. A healthy cornea is round, but a cornea afflicted with keratoconus thins and bulges outward from the eye in a cone-like shape. The abnormal shape prevents light from entering the eye and focusing properly on the retina. Symptoms of keratoconus include blurred or distorted vision, sensitivity to light and glare.
In the mild stages of keratoconus, eyeglasses and contact lenses can correct the visual distortion. Frequent visits and prescription adjustments are usually needed to compensate for progressing keratoconus. In the most advanced cases, a corneal transplant may be required.
How Corneal Cross-Linking Works
A breakthrough treatment called corneal cross-linking is designed to fortify corneas that have been weakened by keratoconus, staving off the progression of the disease and preventing vision loss.
Corneal cross-linking uses a combination of riboflavin drops and ultraviolet light to strengthen the fibers of protein in the cornea called collagen. These fibers are responsible for holding the cornea in place and preventing it from thinning and bulging.
During a corneal cross-linking treatment, riboflavin drops are administered to the surface of the eye. Then, the eye is exposed to ultraviolet light at differing levels of time and intensity. The eye drops help the cornea absorb the UV light; this, in turn, builds new collagen bonds in the cornea.
A corneal cross-linking treatment usually lasts 60 to 90 minutes. One eye is treated at a time. Results can be seen approximately six months to one year after treatment.
Learn More about Keratoconus and Corneal Cross-Linking
If you have been diagnosed with keratoconus and want to halt the progression of the disease with corneal cross-linking, please contact Bochner Eye Institute and request an appointment. You can reach us by calling 416-960-2020 or by sending us an email today.