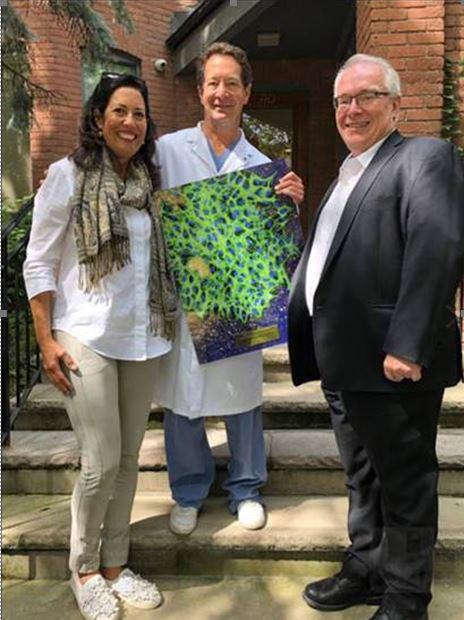 Dr. Raymond Stein, the medical director of Bochner Eye Institute, was recently honored for serving 10 years on the Board of Directors of Fighting Blindness Canada. The organization expressed its deep gratitude for Dr. Steins decade of service and his innovative, forward thinking.
"It was a privilege to work with an outstanding Board and staff who are so passionate about vision research in trying to find cures for vision-threatening diseases. The future looks bright," Dr. Stein commented.
His involvement with Fighting Blindness Canada helped the organization move many steps forward toward its common goal of eradicating blindness in Canada.
About Fighting Blindness Canada
Founded in 1974, Fighting Blindness Canada is one of the most established eye charities in Canada. They are devoted to funding research into degenerative eye disorders such as retinitis pigmentosa and age-related macular degeneration.
Over the past 45 years, Fighting Blindness Canada has offered hope to the more than 1.5 million Canadians living with some form of vision loss, and the 5.59 million Canadians who are at a significant risk of developing a sight-stealing eye disease. The foundation has invested over $40 million in vision research and education projects, funding over 200 research grants that have led to more than 600 discoveries in gene therapy, stem cell research, pharmaceuticals and other areas.
About Dr. Stein
Dr. Steins innovative mind made him a perfect match for Fighting Blindness Canada. He has played an important role in bringing many groundbreaking laser procedures to Canada to help stave off or reverse vision loss. His most recent accomplishments include helping Bochner Eye Institute become the first clinical site in Canada to offer laser treatment for people with low vision from age-related macular degeneration and other retinal diseases. Before that, Dr. Stein garnered attention for using topography-guided PRK and corneal crosslinking to treat keratoconus. He has been invited to speak to other ophthalmologists all over the world about these pioneering treatments.
Contact Dr. Raymond Stein Today
For more information about Dr. Stein or Fighting Blindness Canada including how you can help move the needle toward the development of treatments and cures for blinding eye diseases please contact our one of our Toronto offices today.
To see how you can help fight blindness, visit this site: https://www.fightingblindness.ca.