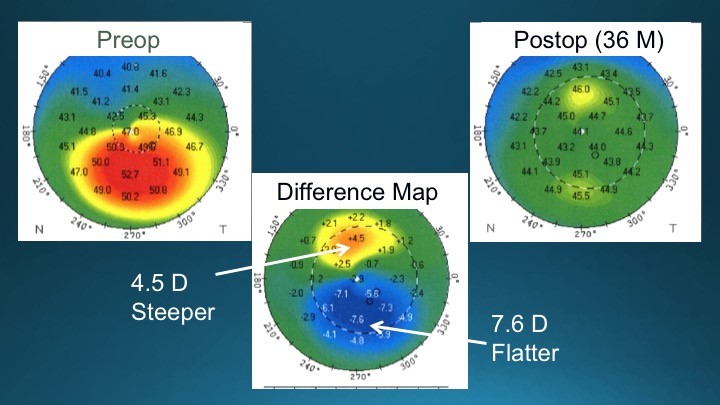 Patients with keratoconus or suspected keratoconus require corneal imaging to show anterior curvature, anterior elevation, posterior elevation, and pachymetry. Sophisticated corneal tomography and topography imaging allows for an early diagnosis of keratoconus and follow-up examinations can document stability or progressive disease.
At Bochner, our Keratoconus Clinic allows us to devise and review with patients and referring doctors a detailed treatment plan. Treatment options depend on a patient's age, level of best-corrected spectacle acuity and uncorrected acuity, dioptric difference across a cornea, pachymetry, corneal curvature, and/or the presence of any significant corneal scarring. We have developed a decision tree that guides our recommendations on the following clinical options:
Corneal crosslinking to stabilize a cornea.
Corneal crosslinking + Topography-guided PRK to stabilize a cornea and improve best-corrected spectacle acuity by reducing irregular astigmatism.
Corneal crosslinking + Intracorneal rings to allow enhanced contact lens wear in corneas too thin for Topography-guided PRK.
Toric implantable contact lens to enhance uncorrected acuity.
PRK and limited corneal crosslinking to improve uncorrected acuity.
RGP, hybrid, or scleral lenses to improve best-corrected acuity.
Laser Cataract Surgery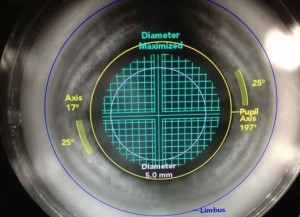 Since acquiring the first Catalys femtosecond laser in Canada 5 years ago the percentage of patients choosing this advanced technology has continued to increase. One-hundred percent of the 34 Ophthalmologists and optometrists that have undergone cataract surgery at Bochner since 2012 have opted for laser surgery versus traditional surgery.
Our top 4 advantages of Laser Cataract Surgery versus Traditional Surgery are as follows:
Reduction or Elimination of Phacoemulsification Energy Traditional phacoemulsification utilizes a probe that vibrates 20,000 times per minute to break up a cataract. This is similar to a jack hammer breaking up cement. In the eye this energy can cause intraocular inflammation and loss of corneal endothelial cells. With the Catalys laser 85% of our cataract cases are now accomplished without any phacoemulsification. In the remaining 15% of cases, the energy from phacoemulsification is greatly reduced. Elimination or reduction of phacoemulsification is possible because of the unique laser fragmentation of the Catalys laser that softens a wide area of the lens.
Accurate and Consistent Capsulorehexis A 5 mm capsulorehexis performed with the Catalys laser is accomplished in 1.6 seconds. This quick speed is important to decrease the chance of any radial tears that could lead to rupture of the posterior capsule and loss of the nucleus into the vitreous. In over 2,700 eyes treated at Bochner, we have only seen one radial tear.
Capsulorehexis Centred Over the Visual Axis The Catalys identifies the visual axis and can create a perfectly round capsulorehexis centered over this point. The surgeon then aligns the centre of the implant over the visual axis, which allows for a small amount of anterior capsule covering the implant. Centration of an implant on the visual axis can decrease the induction of higher order aberrations with aspheric and toric implants and improves patient satisfaction with multifocal implants.
Laser Astigmatism ReductionAstigmatism reduction with laser arcuate cuts has been shown to be more predictable than with a hand held blade. The laser can produce cuts at an exact depth, angle, length, and location. Laser arcuate incisions can be opened by the surgeon at the time of surgery or if combined with a toric implant the incisions can be opened if necessary postoperatively to fine tune the outcome.
Read article by Dr Gifford-Jones in Toronto Sun (July 2017): When You Need Cataract Surgery – Dr Gifford-Jones
---
Keratoconus & Cataract Clinics
– Contact Information –
Our Toronto, Scarborough, and Unionville Offices now offer Keratoconus and Cataract Clinics, in addition to consultations for Laser Vision Correction, Refractive Lens Exchange, and other refractive procedures. Referrals can be mailed, faxed or emailed. Our Oakville Office is limited at this time to general medical ophthalmology referrals.
Toronto
40 Prince Arthur Avenue, Toronto, Ontario M5R 1A9
Phone 416 960 2020
Fax 416 966 8917
Bochner@bochner.com
Scarborough
2941 Lawrence Ave East, Scarborough, ON M1P 2V6
Phone 416 431 7449
Fax 416 439 9523
Scarborough@bochner.com
Unionville
147 Main Street, Unionville, ON L3R 2G8
Phone 905 470 2020
Fax 905 470 2216
Unionville@bochner.com
Oakville
353 Iroquois Shore Road, Oakville, ON L6H 1M3
Phone 905 815 1112
Fax 905 845 7828
Oakville@bochner.com