Value in Keratoconus, LASIK or PRK Complications, Irregular Astigmatism, and Post-RK
We have had a positive experience in performing topography-linked PRK (TG-PRK) for keratoconus, post-LASIK or PRK complications, irregular astigmatism from corneal scars, and post-RK. This technology has demonstrated significant value in improving best-corrected visual acuity and quality of vision.
Technique
The preoperative technique involves the capture of 8 consistent Scheimpflug images utilizing the Oculyzer, a device which is similar to the Pentacam. These images are then digitally transferred to the Allegretto 400 KHz to plan our customized laser ablation. The procedure involves flattening steep areas and steepening flat areas to improve the regularity of the corneal surface.
The surgical technique involves a 50-micron PTK ablation to remove the corneal epithelium. In cases of keratoconus, the corneal epithelium tends to be thinner over the cone compared to the base, and thus the 50-micron laser ablation tends to remove a thin amount of the protruding cone. This treatment is followed by a TG-PRK. In keratoconus, we try to limit the stromal laser ablation to 50 microns. Large optical zones of 6.0 or 6.5 mm, are typically associated with a greater effect and stability compared to smaller zones. The optical zone chosen depends on the preoperative corneal thickness and the degree of corneal irregularity. Corneas with a minimum thickness of 450 microns or greater typically allow for the use of larger optical zones. However, if there is a very high dioptric difference across the cornea then smaller zones may be required to minimize tissue removal.
Case Example #1
76 year old male with a corneal scar that induced significant central flattening and irregular astigmatism. A TG-PRK was performed that resulted in BCSVA improving from 20/80 to 20/30. Note the difference map below which resulted in 7.9 D of steepening centrally and 6.4 D of flattening supronasally.


Case Example #2
28 year old female with keratoconus that underwent TG-PRK and CXL on Dec 3, 2012. Examination 11 months postop showed an improvement in BCSVA from 20/40 to 20/25. Pentacam maps showed the inferior steepening to be resolved and replaced with a symmetric bow-tie pattern of astigmatism.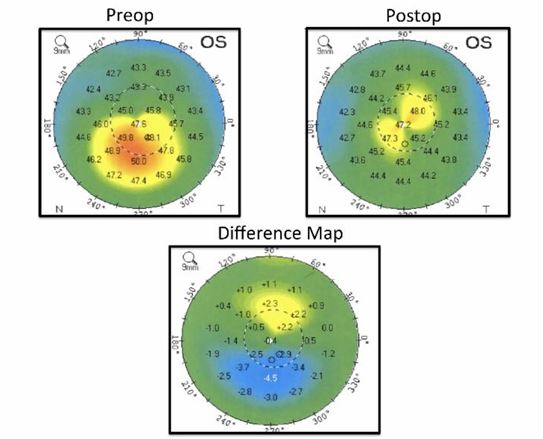 I hope this information is of help to you in understanding the clinical significance of a topographically-linked laser ablation. If you have any questions or comments please feel free to contact me at info@Bochner.com.
Learn more here
Sincerely,
Raymond Stein, MD, FRCSC
Medical Director, Bochner Eye Institute
Associate Professor of Ophthalmology, University of Toronto