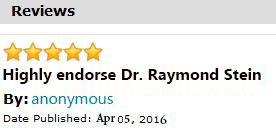 I have been providing audio visual services for medical conferences over 25 years. As a result I am on-site and am able to see the latest developments and technology in surgical procedures when servicing these meetings. I had the opportunity to speak with a number of Canada's top Ophthalmologists about laser vision correction surgery at their advice I decided to wait until the technology was sufficiently developed and proven. When I finally decided to have this surgery I took the advice of the aforementioned physicians and chose Dr. Raymond Stein to do this delicate and extremely important procedure. When I am providing Audio Visual and the topic of laser vision correction is on the academic program for a conference it is always Dr. Stein presenting to his fellow ophthalmologists. He is considered a well regarded and highly esteemed physician.
It has been a month since having the surgery and I am very happy to not have to wear glasses anymore. My long vision is improving every day. I was able to read text on a computer within seconds of having the procedure done. There was no pain during the surgery and I did not need the pain medication that was given to me after the procedure. The process was clearly explained to me and I found it all to be remarkably simple and straightforward. The instructions, after care package and follow up were comprehensive and easily manageable.
I would recommend this surgery to anyone considering it and I would highly endorse Dr. Raymond Stein as the surgeon to turn to.
---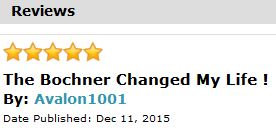 I had my Lasik done in 2003 by Dr. Raymond Stein. It was the best thing to ever happen to me. My prescription was -9.00 in both eyes, so I was nearly blind ! The staff took the time to explain everything that was going to happen on the day of surgery and what to expect afterwards. Dr. Stein is gentle and very calming. He's perfect if you're a big chicken like me. Afterwards my eyes were scratchy and squinty for about a day and a half, so I just napped at home and relaxed. Surgery on Thursday, and back to work on Monday. My eyes had been dry for most of my life, so I was told to expect a little extra dryness. No problem, I brought drops to work and they took care of it. About three or four months later I realized that they were back to normal. Now I only need drops once or twice a year during the winter when the air is really really dry. I was told that I might have a higher chance of needing a touchup because of my high prescription, but I'm still 20/20. I was also warned that when I hit the dreaded 40th birthday I would start to lose the reading vision, but that happens without the surgery too. All in all I'd recommend The Bochner to anyone who wants to change their life !
---
Dr. Ray Stein performed my LASIK surgery a few summers ago. Prior to my surgery, my prescription was getting worse and worse and my eyes had pretty much rejected my contacts for the last time. Although I occasionally liked glasses as a fashion statement, they were a serious impediment to my life! I like to swim, sweat, snorkel, go outside on a sunny day without wearing ugly prescription glasses, and yes, see my alarm clock without squinting or fumbling for my glasses! I am a self proclaimed medical wuss…white coat phobic to the max. Deciding to do this surgery was a major source of stress and anxiety for me. The staff and Dr. Stein really helped me pre, during, and post surgery. The procedure was well explained, and I felt cared for. The actual laser took only seconds to work its magic. Quick. I was shocked that I posed for a picture with my eyes open minutes after my surgery. Being from out of town, my follow up care was done with my own optometrist. I've had 20/20 vision since then (although it did take a few months for the "haloing" around lights at night to disappear)…which I've been told was normal. I have and most definitely do recommend lasik surgery at Bochner. I seriously regret not getting it done sooner. Now if only there was a treatment for reading glasses! What are you waiting for?
---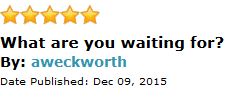 I was referred by my eye doctor to Dr Raymond Stein for LASIK. I was apprehensive but when I went for my consultation the staff made me feel comfortable and answered all my questions. The clinic is very busy with patients being referred from all over North America. When I went for my procedure I met a patient from Florida and another from Minnesota. They obviously have a good reputation! The surgery went very well and Dr Stein made me somewhat relaxed. Now a few months after my procedure, I can say it was one of the best decisions of my life. Freedom from glasses and contacts is awesome. A BIG THANKS to Dr Raymond Stein and the Bochner Eye Institute.