Raymond Stein, MD, FRCSC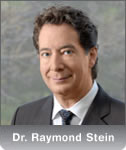 If you wear contact lenses or glasses imagine waking up to a life of clear vision. The ability to drive, walk, run, go to the theater, participate in sports, all without any optical aids. There are practical reasons such as improved peripheral vision compared to glasses (especially important when driving) or improved safety compared to contact lenses with a lower risk of corneal infections. The United States military has encouraged laser vision correction for its combat soldiers in Iraq and Afghanistan to enhance visual performance.
My grandfather Dr Maxwell Bochner founded the Bochner Eye Institute in 1929. This past year we celebrated our 80th anniversary as one of the oldest private eye-care facilities in North America. Our goal has always been to provide the best possible care delivered in a kind and compassionate way. In the modern era of high technology we feel it is especially important to carry on the tradition of Dr Bochner of caring for the individual patient.
We have been performing laser eye surgery for the past 19 years at the Bochner Eye Institute. Everyday is an exciting day for our patients, our staff, and our surgeons. Patients' lives are enhanced with a painless, quick, and safe procedure. The most common regret that patients tell us is they wish they had the surgery when they were younger. Today patients range in age from 18 to 65 years of age that have laser surgery.
Some patients want to join the police force or become a firefighter and need a certain level of vision without glasses or contacts. Some patients are unable to wear contact lenses because of dryness or solution reactions. Today many patients are not having any specific problems with their glasses or contact lenses but want to be free to live their life without any optical aids.
Many patients ask me if eye doctors are undergoing laser eye surgery. The percentage of eye doctors that have undergone the procedure is greater than that in the general population. In fact, there have been over 400 eye doctors that have come to the Bochner Eye Institute to have their own eyes treated. Eye doctors have travelled to the Bochner Eye Institute from as far away as Australia, Italy, and India.
Are you a candidate for laser vision correction? All patients need to have a detailed eye evaluation to make sure they are excellent candidates. This comprehensive examination consists of a computerized assessment of vision, a mapping of the corneal surface and thickness, a measurement of the quality and quantity of the tear film, and an evaluation of the intraocular health. At the Bochner Eye Institute we offer an assessment and informative consultation on the procedure, at no charge.
Not all patients are satisfactory candidates for laser eye surgery. In some cases patients may have relatively thin corneas or extremely high prescriptions. At the Bochner Eye Institute we offer all the surgical options for vision correction. In some situations patients can be helped with other procedures such as a refractive lens exchange (replacement of the patient's lens with an implant), or a phakic implant (insertion of a thin implant in front of the patient's lens).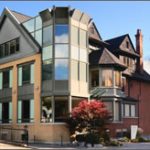 All surgery is done at the Bochner Eye Institute. The Institute is in a historical building in the Yorkville area in Toronto. There are four floors that houses advanced technology and a dedicated and highly trained staff. In addition to excimer lasers from Germany and California, there are two operating rooms for intraocular surgery. The Ontario College of Physicians and Surgeons have approved the Institute's operating rooms.
The most advanced technique of LASIK utilizes a femtosecond laser to create a thin flap of tissue. This is a revolutionary technique that offers an unparalleled method of accuracy and safety. Patients feel a slight amount of pressure but no pain. The second part of the procedure is the reshaping of the cornea with the excimer laser. The LASIK flap is gently lifted and the laser is activated to remove a precise amount of tissue on the underlying bed. Usually less than the thickness of a hair is removed. The flap is repositioned over the bed and it adheres in a few minutes. This painless and quick procedure allows for the correction of nearsightedness, farsightedness, or astigmatism.
Patients are often concerned that if they move their eye during the procedure it could affect the outcome. Fortunately the most sophisticated lasers are equipped with accurate eye trackers that monitor the position of the eye and allow the laser pulses to be delivered to the right spot ensuring an excellent outcome.
Following LASIK eye surgery 99% of patients can drive without glasses the next day. 1% of patients may take a few extra days. Patients are also happy that they can resume their normal activities so quickly after the procedure. The majority of patients report that their vision during the day or at night without glasses, is better than what they previously experienced with the best pair of contact lenses or glasses.
If Dr. Bochner were alive today he would be proud of the continued tradition of excellence in patient care and innovation. The surgeons of the Institute have published over 35 textbooks to educate eye doctors, family doctors, and patients about a variety of eye disorders and treatments. The surgeons have also received prestigious awards from International and local organizations to recognize their leading accomplishments. I am proud of our history and look forward to the continued tradition of innovation and excellence in patient care. More about Raymond Stein